寶熊漁樂碼頭
Okuma Center
這是一個源起於推動釣魚文化進而宣導海洋保育的主題場館。OKUMA位於台灣,世界第三大的釣具品牌,創辦人始於喜歡釣魚與熱愛海洋,歷經30年成立台灣唯一以釣魚文化為主題的OKUMA CENTER。
Okuma is the third major manufacturer of fishing products in the world, and its founder has a passion for fishing sport with a commitment to ocean conservation. After three decades of hard work, the first Okuma Center featuring fishing culture was established in Taiwan.
台灣四面環海,海洋生態多樣而豐富,但居住其中的人們是否看見她的美麗與哀愁?全球的海洋都面臨人類過漁或是污染導致海洋生產力下降與生態的滅絕,現今釣魚運動的精神,並非漁獲而是學習保護環境的重要性並與大自然和平共生,希望藉由此展場讓參觀者在了解釣魚文化的同時,也能夠認知到生態保育的重要性,並共同負起環境保育的責任。
Do you feel the beauty and sadness in the ocean around Taiwan despite its rich biodiversity? Lowering marine productivity and ecological extinction caused by overfishing and pollution are global concern. Today, fishing sport aims to stress the significance of environmental protection and harmonious coexistence with Mother Nature. Visitors at Okuma Center will not only learn fishing culture but also understand the importance of ecological conservation to take further action on environmental protection.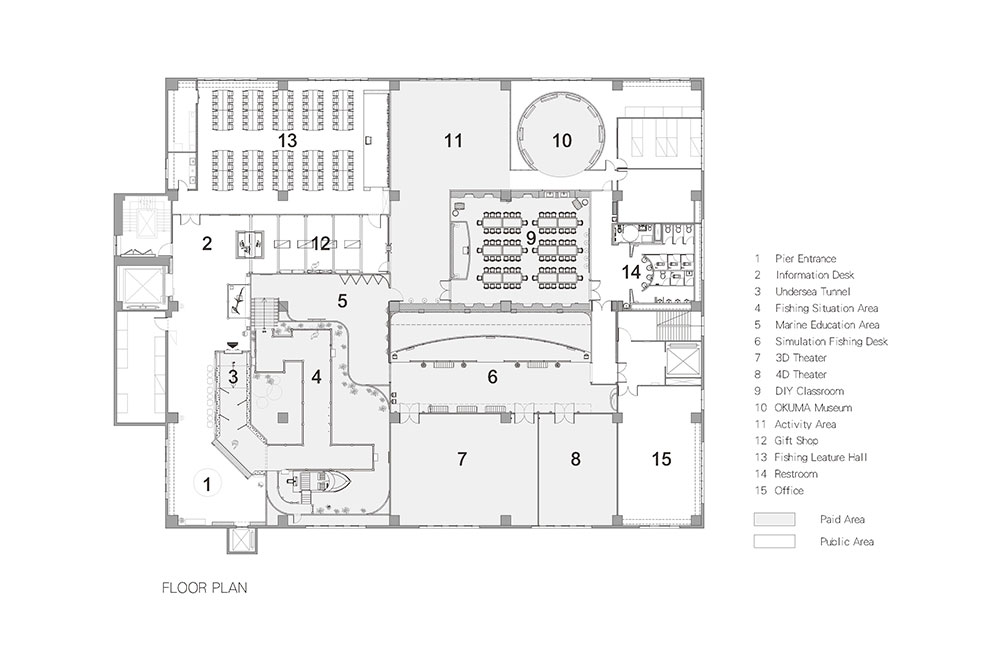 團隊以情境體驗式設計整體場館,分為四大主軸:
Four spots at the center are designed based on scenario-based experiences:
「自然共生」
Coexistence with Mother Nature
開啟幽暗時光長廊,進入神秘海底隧道,不僅僅是空間的起始,同時也比喻著漁獵文化的歷史流動,跟隨魚群的游動進入一段神祕的旅程,帶領著參觀者瞭解古今中外的釣魚文化,時至今日,體認到釣魚運動是與自然共生密不可分。
At the beginning of a dim underwater tunnel as a time gallery, visitors moving with fishes on a mysterious journey will learn the coexistence between fishing sport and Mother Nature through Eastern and Western history of fishing culture during the ancient and modern times.
「釣魚文化展演」
A Scenario-based Show of Fishing Culture
以情境的展演搭配感官體驗設計,讓觀展者彷彿行走於碼頭,搭上快艇體驗船釣的氛圍,或是身處礁石間感受磯釣的魅力,或透過觸動式螢幕了解台灣釣魚地理及特性,同時透過實際操作的釣竿與捲線器,融入聲光投影效果,讓人們像是經歷了一場精彩的釣魚體驗。
At a scenario-based show incorporating sound-and-lighting effects, visitors will enjoy a sensuous fishing experience where they seem like walking along a pier and fishing from a speedboat. Visitors will have fun with seashore fishing among rocks, or they will learn Taiwan's geographical features for fishing sport with touch screens while using fishing rods and trolling reels.
「海洋教育」
Marine Education
展區入口以回收塑料瓶罐塑造鯨魚骨的意象,隱喻人類污染及垃圾造成海洋生態浩劫,內部展區以世界洋流、台灣經濟魚類、海洋保育三大課題,透光聲光互動式設計,引導重新反思自己如何在環境保育上扮演更主動的角色。
At the entrance of the marine education spot, a piece of whale skeleton artwork made of recycled plastic bottles and cans suggests the crisis of marine pollution and trash. The interior spot features three topics: worldwide ocean currents, Taiwan's commercially important fishes and ocean conservation. Through the interaction between lighting and sound, visitors will be given a chance to reflect on how they should play a crucial part in environmental protection.
「博物館」
Museum
OKUMA,30年來以投入研發製造捲線器為主軸,為世界第三大釣具品牌,透過捲線器造型陳列方式配合投影解說,了解產品30年的歷史及演進。
As the third major manufacturer of fishing products, Okuma has been devoted to the research and development of trolling reels for three decades. In this spot, visitors will learn the historical development of Okuma's fishing products by a slideshow lecture of an array of trolling reels.